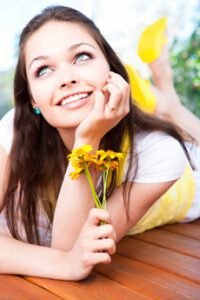 If you've ever wanted a dazzling white smile, but have been discouraged by tooth staining or not getting the results you've wanted from over-the-counter treatments, you may be interested in teeth whitening treatments from Temple City Dental Care. Our teeth whitening treatments are professionally designed to get rid of tooth stains and to brighten the tooth enamel safely, and effectively. Your smile is the first thing that another person usually notices. With a teeth whitening treatment, you'll be able to easily enhance the beauty of your natural teeth and enjoy a more brilliant smile. At our practice, we offer both in-office teeth whitening treatments and take-home whitening kits.
In-Office Teeth Whitening From Temple City Dental Care
With in-office teeth whitening treatment from Temple City Dental Care, patients can walk into our office in the morning and walk out the same day with significantly brighter teeth. At our dental office, we can whiten your teeth in less than an hour. Our in-office treatment is perfect for patients who want instant results. Patients who have a wedding or other social event can get their teeth whitened before their commitment in as little as one session. In-office whitening is perfect for patients who live a busy lifestyle, but who have always wanted whiter teeth.
Professional Take Home Whitening From Your Temple City Dental Team
For our patients' convenience, we also offer take home whitening kits. Using a take home whitening kit, patients can whiten their teeth at their own convenience without worrying about setting up another appointment. Take home whitening kits include trays that have been molded to fit your mouth perfectly, and professional quality gel that will gradually lighten your teeth and remove stains over time. Take home whitening kits are perfect for patients who want whiter teeth, but who don't want their teeth whitened during their visit.
To schedule a teeth whitening appointment, call us at our office today.